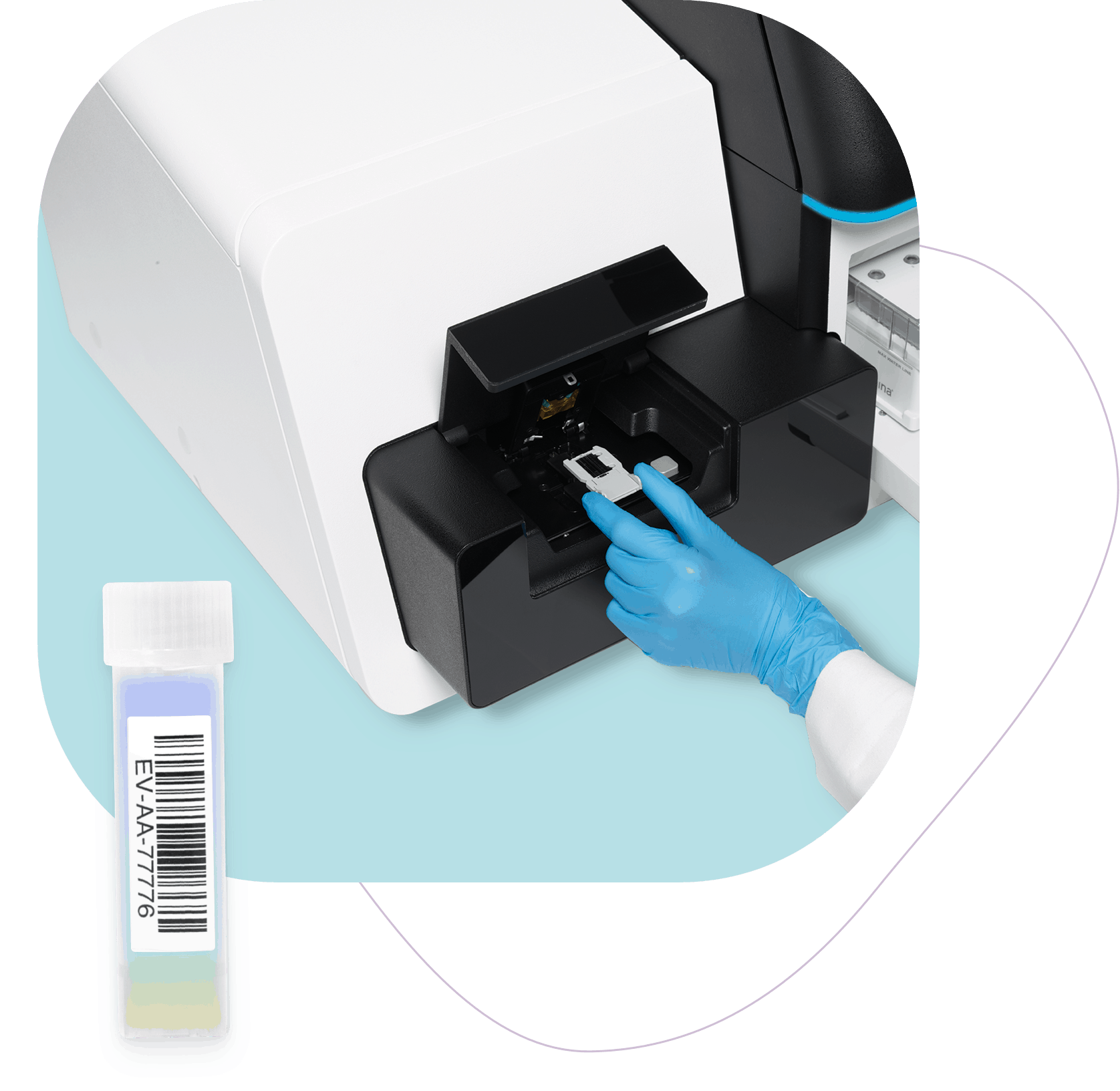 Powered by Nutrigenomics
Nutrigenomics is a modern science that studies the link between your DNA, nutrition, and health. The cutting-edge research in this field makes nutrigenomics the new cornerstone in personalized health.
It's easy to get started with Alumia – just use your kit and mail your saliva sample back to our lab. Our team of expert geneticists and nutritionists will take it from there.
Meet Labcorp, the world's best laboratory
Your DNA is in trusted hands. We're proudly partnered with Labcorp®, the global leader in genomic and medical diagnostics. Over 50 years of state-of-the-art expertise is behind the lab handling your DNA.
Labcorp is fully CLIA-certified (Clinical Laboratory Improvement Amendments of 1988) and CAP-accredited (College of American Pathologists).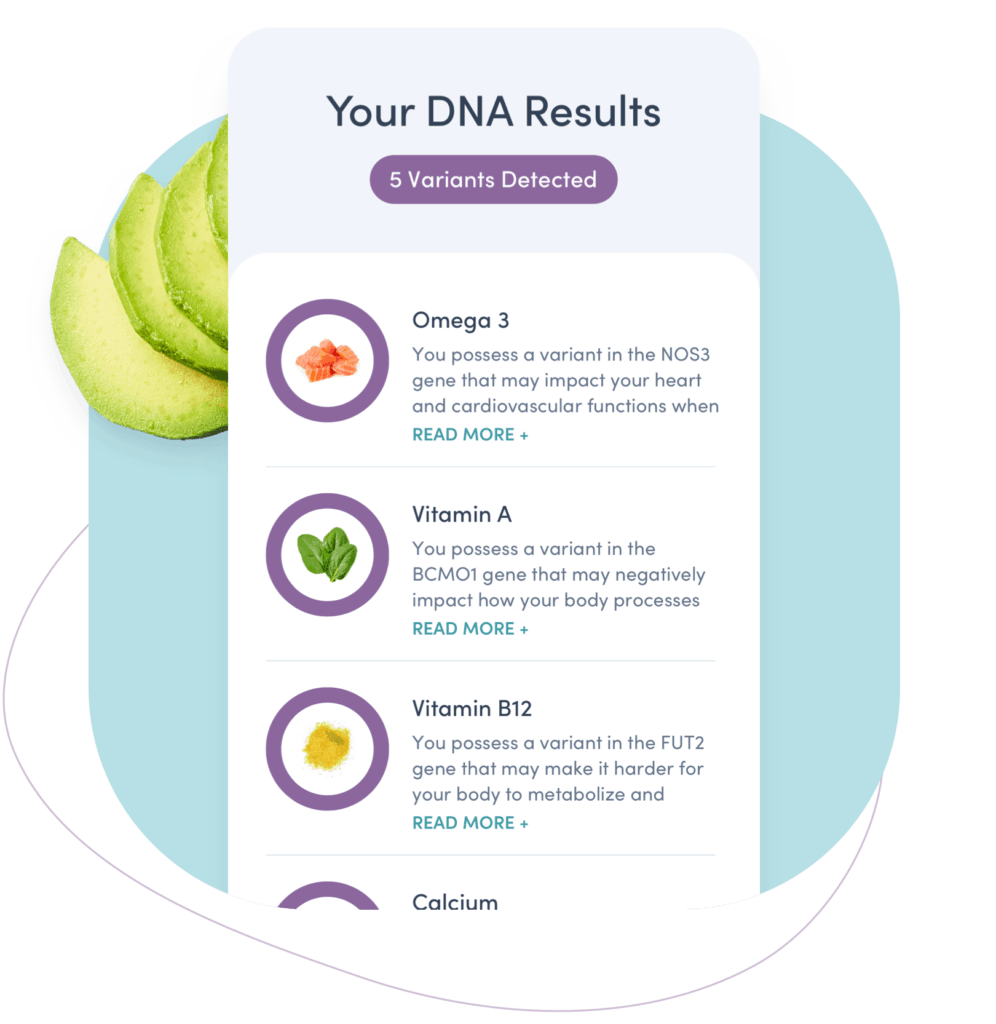 Personalized DNA insights
Your DNA report includes over 20 key health categories covering your body's needs for the essential nutrients along with your diet sensitivities and lifestyle tolerances.
Quickly unlock answers to living a healthier life paired with the right vitamins – learn how your genes can impact the way your body absorbs, transports, and utilizes nutrients.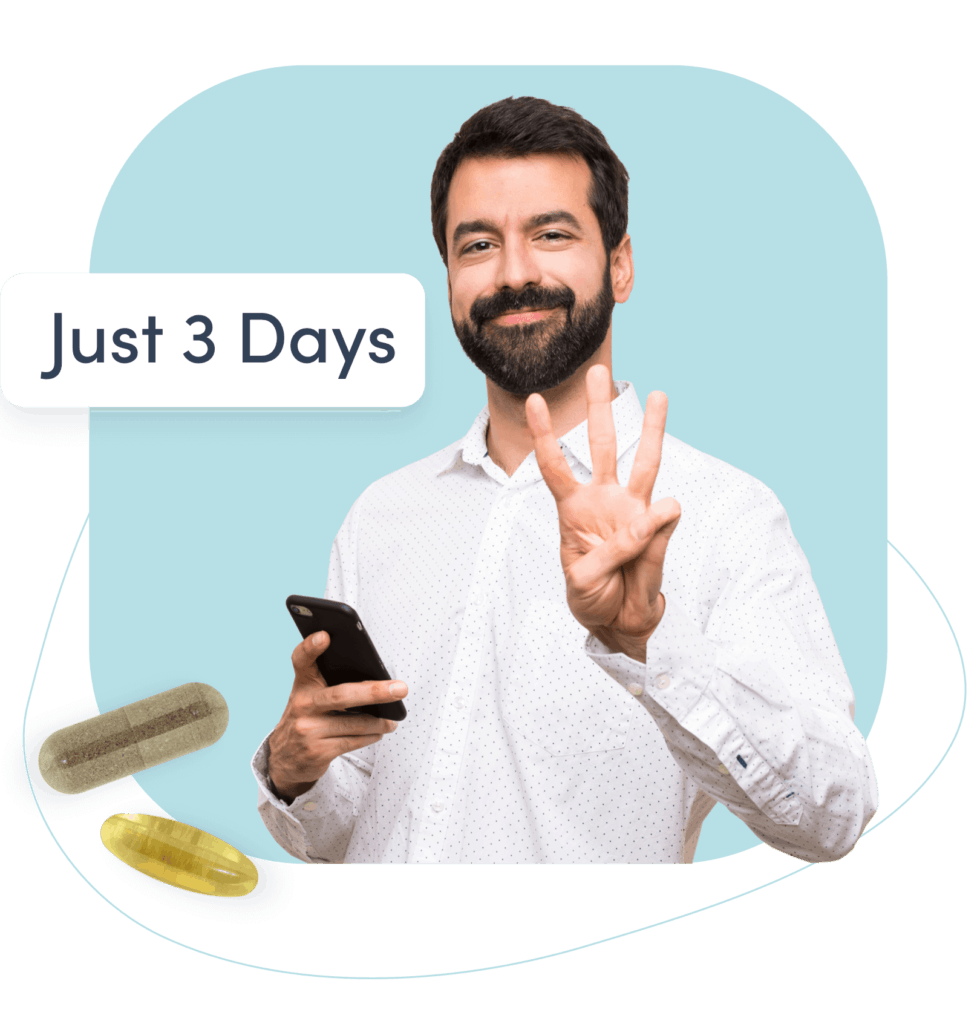 Results at warp speed
We move at warp speed – once we receive your saliva sample, your DNA report will be ready in just 3 days.
It can take weeks for other companies to test your DNA since they collect hundreds of thousands of genetic markers. However, we will never share or sell your data so we don't target any more markers than absolutely required.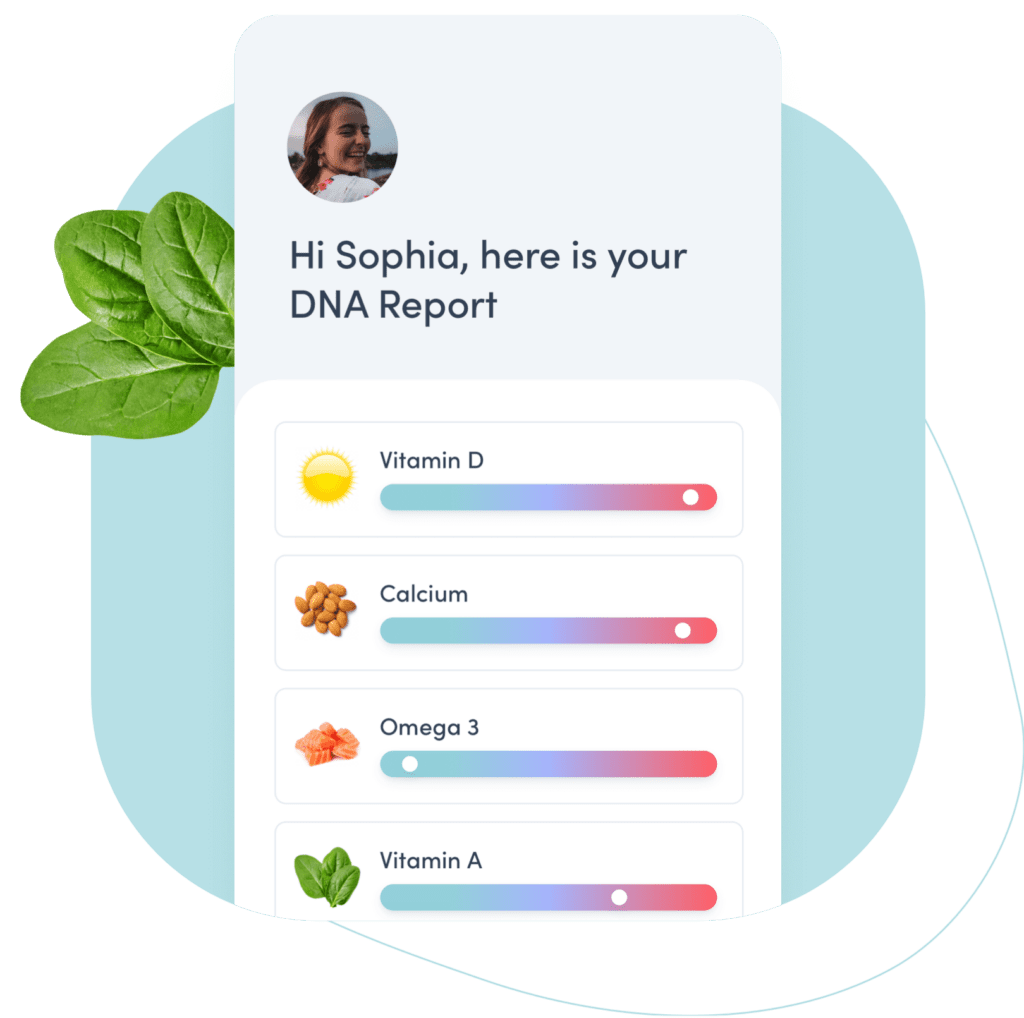 Precision targeting
Our focus is singular: your health matters. We operate with precision by targeting 80 genetic markers in your DNA to search for variants.
Every marker is backed by strong evidence from landmark nutrigenomic studies. Any markers linked to fringe studies or debatable evidence are ignored.
Did you know?
78% of Americans possess a variant associated with an increased occurrence of Vitamin D deficiency.
According to a study from the CDC, Vitamin D deficiency affects over 40% of Americans. This can lead to health issues that include decreased immunity, brittle bones, poor muscle function and accelerated cognitive decline.
Knowing if you have this genetic variant is a first step to getting the Vitamin D your body needs each day.
Everything starts with 'EVE'
The Enhanced Vitamin Engine (EVE) reads your DNA and lifestyle insights – then analyzes 67 million vitamin combinations to find 1 perfect vitamin plan for you.
EVE was developed by a renowned team of doctors, geneticists and nutritionists with decades of clinical research and in-patient experience.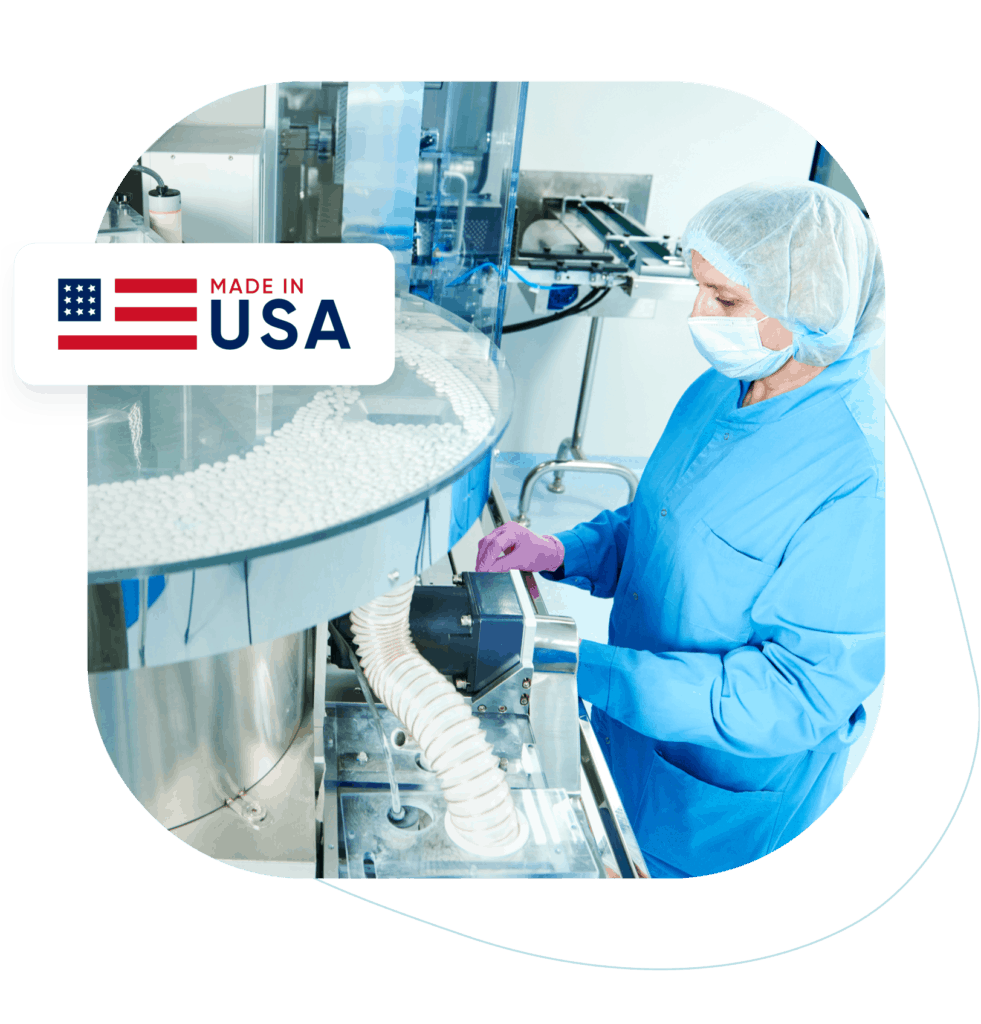 State-of-the-art pharmacy
Your vitamin packs are made in a clean room in our state-of-the-art medical pharmacy. A pharmaceutical grade machine will collect & sort your vitamins into convenient daily packs.
Our machine is 99.9% accurate since it was made for high-volume hospitals. To get to 100% accuracy, every order is checked by a certified pharmacist.
Get your tailored health plan today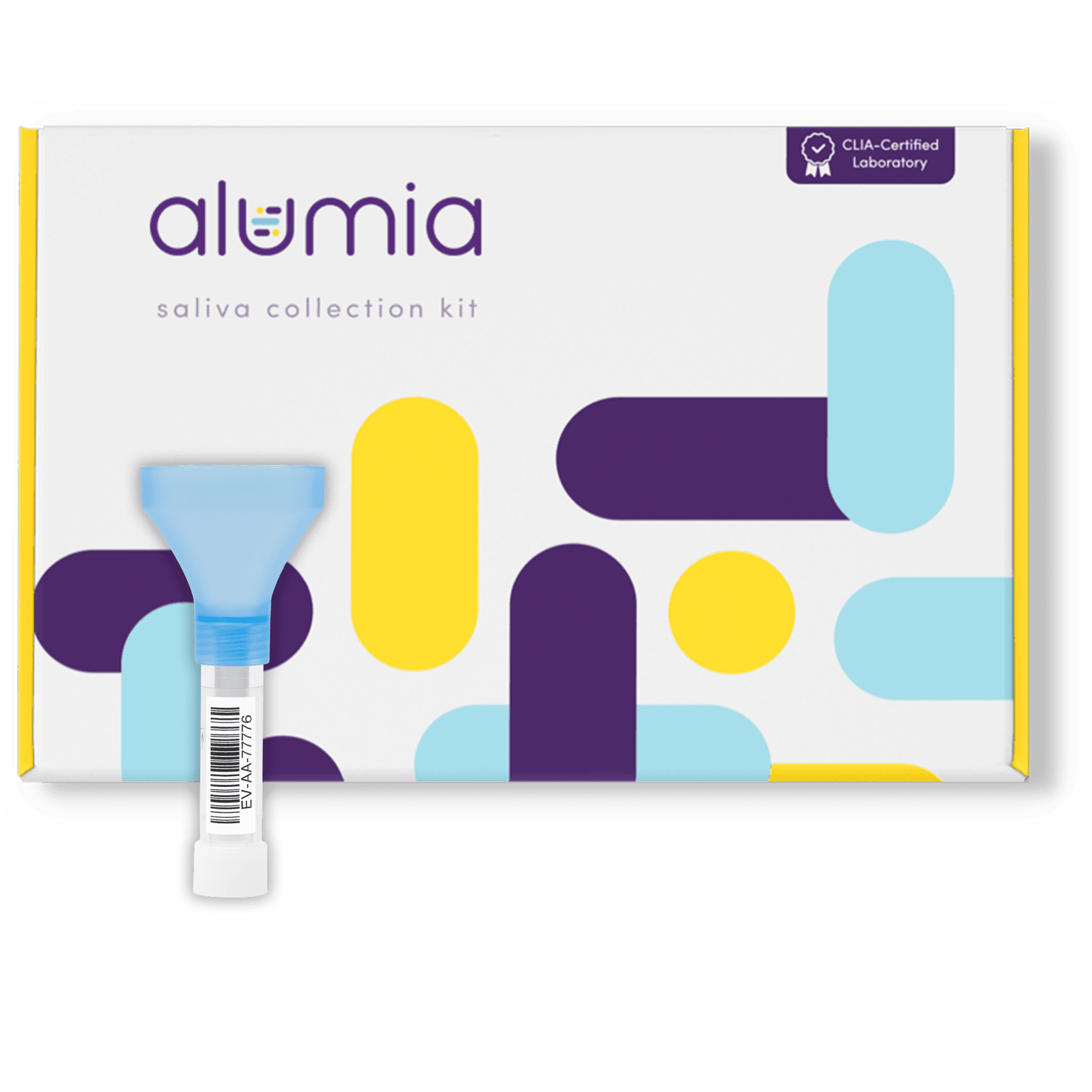 Alumia Vitamin Starter Pack
Save 70%
DNA Test Kit + FREE 1st Month Vitamins
Saliva-based DNA home test kit

Prepaid return postage envelope

DNA results in 3 days

CLIA-certified & HIPAA-verified lab

FREE

delivery

FREE

first month supply of personalized vitamins
After your FREE, first month, you will be billed monthly for your vitamin subscription. Plans start between $30 -$50/mo. Easily adjust, pause, or cancel your plan for free, anytime.
Limited Time Only
After your FREE, first month, you will be billed monthly for your vitamin subscription. Plans start between $30 -$50/mo. Easily adjust, pause, or cancel your plan for free, anytime.
Have more questions about Our Science?
Below are some common questions asked by Alumia customers. Don't see what you're looking for? Check out more frequently asked questions or contact us.
Your kit will be shipped within 24 hours of your purchase and transit time is typically 1 to 3 days depending on your location. Shipping is free and tracking info will be emailed to you once your kit leaves our warehouse.
Your saliva contains DNA from cells in your mouth. When you send your saliva sample to our certified lab, our geneticists will extract the DNA from your saliva. Your DNA then gets processed on a genotyping chip that targets specific markers in your DNA to look for variants. When genotyping is complete, your results will be presented in your nutrigenomic report.
Yes – your privacy and security are guaranteed at every step. We will never share or sell your data. Your saliva sample and DNA results are only identifiable via an anonymized barcode system. Your DNA results are stored on encrypted HIPAA-compliant servers, completely separate from servers that contain any personal information. If desired, you can permanently delete your data from our servers at any time – no questions asked. Learn more about how we protect Your Privacy.
Your monthly supply of personalized vitamins comes in a convenient vitamin dispenser that contains 60 daily packs: 30 morning packs and 30 night packs. We'll make sure to ship your next month's supply early enough that you'll have it by the time you're finished with your current month. Learn more about your daily vitamin packs.
Your personalized vitamins are formulated by an expert team of nutritionists, geneticists, and chemists. We maximize bioavailability by using potent dosages of the highest quality ingredients. We only use non-GMO ingredients that are free of gluten and lactose. Your vitamins are all-natural which means we do not use synthetic fillers or artificial colors, flavors or preservatives of any kind. Most of our vitamins are also organic, vegan friendly, and free of major allergens.
For more info, meet our vitamins and learn about our vitamin quality.