Results you can feel. Science you can trust.
Get truly personalized vitamins backed by your genetic blueprint in 3 easy steps. Powered by the world's fastest DNA test and the leading CLIA-certified laboratory.
1
Step 1
DNA Nutrition Kit
Follow the easy kit instructions to spit in the provided tube. Register your tube using the barcode so we know it's yours – then mail it back to our lab for free in the prepaid box.
2
Step 2
Your DNA Report
Our CLIA-certified lab will produce your full DNA analysis in just 3 days. Quickly discover the optimal vitamins your body's been craving to support your unique health gaps & lifestyle.
3
Step 3
Personalized Vitamins
Get daily vitamin packs delivered to your doorstep every month – your 1st month is free! Every single vitamin is tailored to your body with effective potency, so you actually feel results.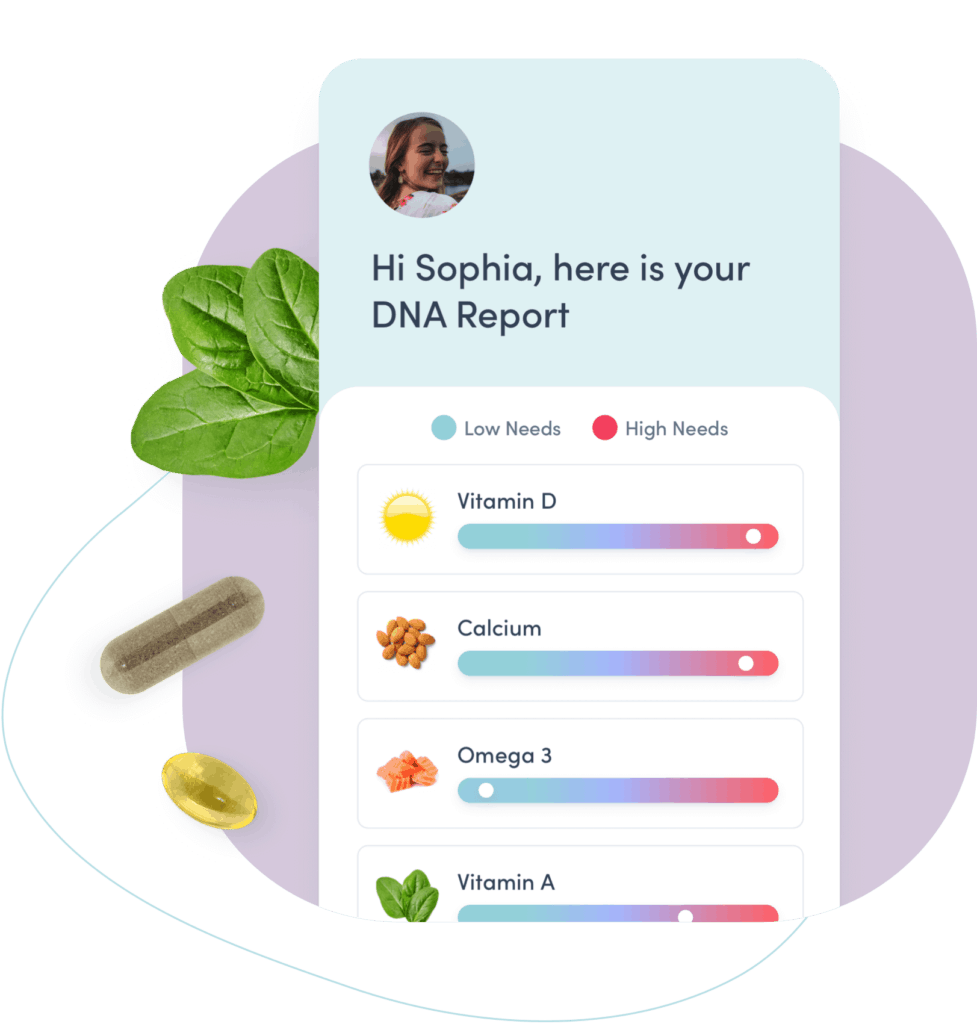 Better health simplified
Achieve a lifetime of better health & wellness without the guesswork. Your DNA results tell you which vitamins your body needs to safe-guard your health and perform at its very best.
Holistically improve your immune system, energy levels, cardiovascular health, sleep, digestion, & more starting with modern science and a simple 1-minute saliva test.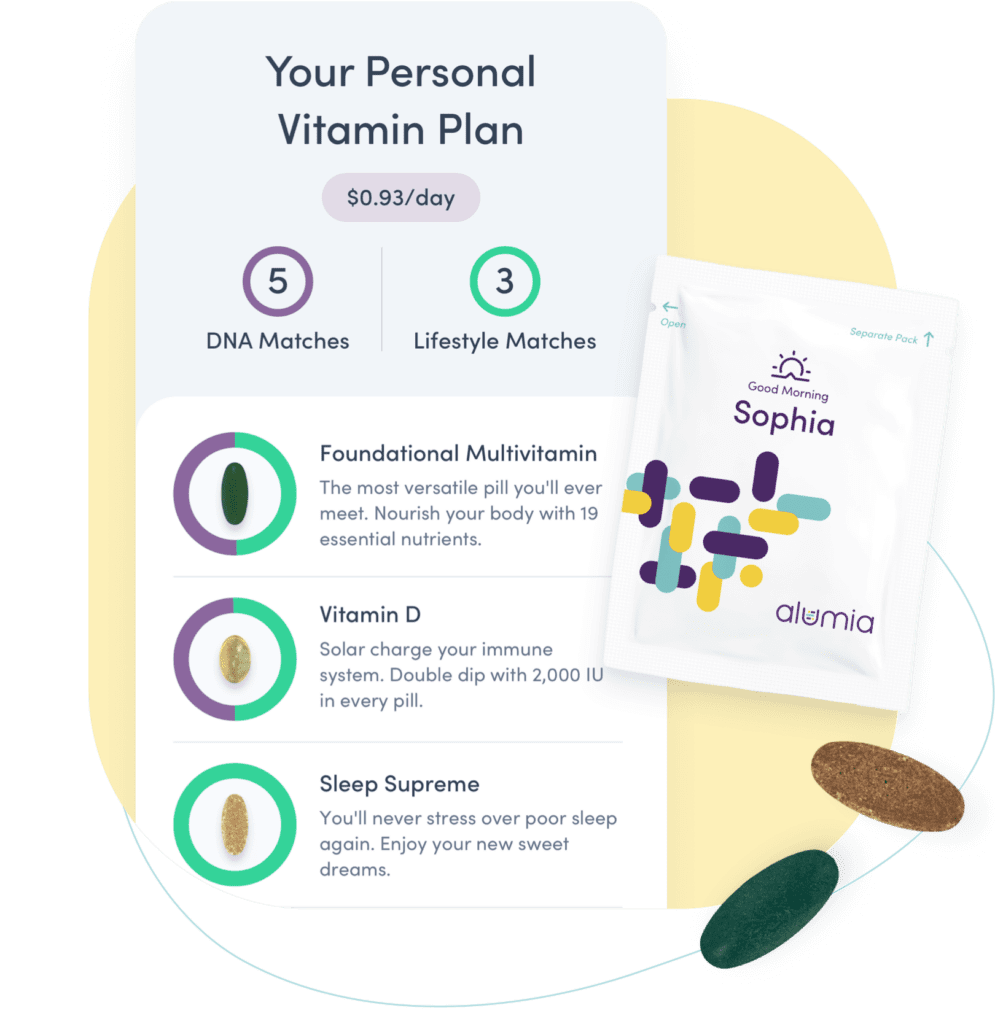 Affordable monthly plans
Your personalized vitamin packets are created to be flexible and affordable. Your 1st month of vitamins is free! Thereafter, customers pay between $30 to $50 per month depending on their results and unique body's needs. You can easily adjust your monthly packets to help stick to your vitamin regimen or pause, anytime.
Get your tailored health plan today with zero risk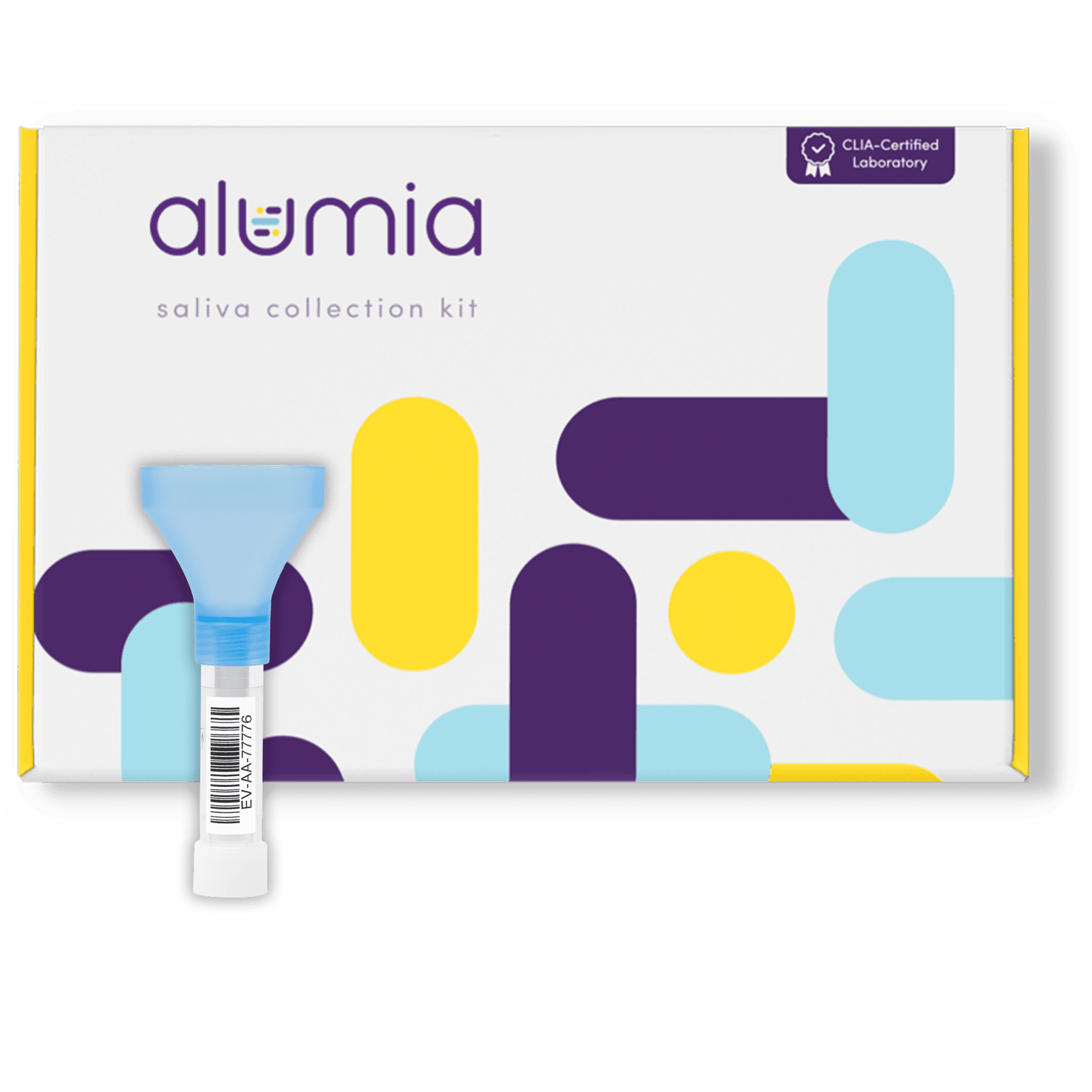 Alumia Vitamin Bundle
DNA Kit + Free 1st Month Vitamins
Free 1st Month Personalized Vitamins
Saliva-based DNA Test Kit
Complete DNA Report
DNA results in just 3 days
CLIA-Certified & HIPAA-Verified Lab
Free shipping on all orders
After your free 1st month, your vitamin subscription will be billed monthly. Plans start between $30 -$50/mo. Easily adjust or cancel your plan for free, anytime.
Limited Time Only
After your free 1st month, your vitamin subscription will be billed monthly. Plans start between $30 -$50/mo. Easily adjust or cancel your plan for free, anytime.
Ingredients you can trust.
Results you can feel.
Your personalized vitamins are formulated by expert nutritionists, geneticists, and chemists. Made using premium quality ingredients that are ethically sourced & backed by modern science.
No Artificial Additives or Fillers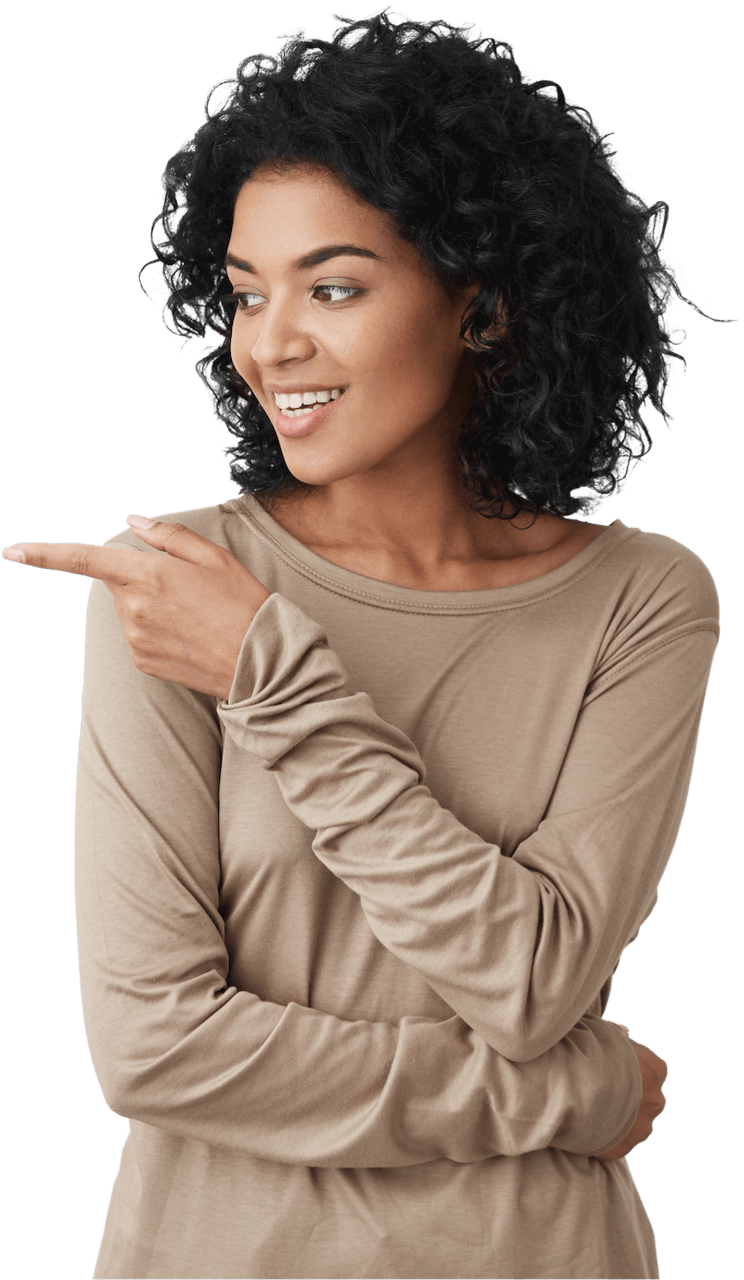 Better health means happy customers
Our customers are living healthier & happier lives with personalized vitamins. Are you ready to get started?
Thank You Alumia

I have been taking Alumia vitamins for a few months now and since then I have noticed many changes in my health. My colds/flu have reduced. No cold sores. I am not exhausted by 2 pm and I don't wake up in the middle of the night anymore. I am no longer buying random vitamins and guessing what I need which costed me loads. I love how it's tailored to my body and the service is super efficient with no issues in delivery. Thank you so much Alumia.

K

Karen C.

San Diego, California

Brilliant service

Very interesting insights and amazing vitamins. Through the DNA test I found out that I had to increase my folate and vitamin D dramatically. Been feeling a lot healthier, energetic, and strong since taking Alumia's vitamins. Would definitely recommend to my family and friends 😀

With Alumia it is different

I buy vitamins then I forget to take them. Cannot be bothered with opening numerous expensive bottles. With Alumia it is different. Vitamins tailored to me, I took the DNA test and did their lifestyle questionnaire. The vitamins come in very handy strips and I am blown away by their quality. This is an amazing service and I highly recommend it to anyone.

B

Bill

Salt Lake City, Utah

HUGE difference

I tried several different vitamins, but never really saw a difference in my wellbeing. Now that my vitamins are personalized I only take what my body actually needs. In a few weeks I already felt a HUGE difference in my wellbeing and I feel more energized with less pain in my joints!

A

Amiya T.

Philadelphia, Pennsylvania

You need this

This is a fantastic kit, well worth it, easy to use, easy to manage the subscription and high quality vitamins

T

Tracie

Boston, Massachusetts

Excellent way to take control of your own health

I turned 40 this year, and seems to be common amongst those of a certain age, it sparked a desire to live healthier. The DNA test has helped me understand my personal genetic predispositions. Turn out I was low in Omega-3 fatty acids and a couple other nutrients. Taking the vitamins has made me feel more together and putting my health as a priority.

D

Dan W.

Seattle, Washington

Worth every penny

You can go through life oblivious of your own personal health needs. I questioned time after time will these generic multis actually work….. then I came across Alumia and everything changed for me. Vitamins fine tuned just for me based on my DNA wow just wow. The process was so easy: order kit, send DNA, wait 3 days for results, order bespoke vitamins. It's that easy…. when the results came in it was not complicated to digest the info it was very informative and none of this sciency jargon.

Fast and easy

I was afraid my vitamins would take forever, but they weren't kidding about 3 day DNA results. Shipping was fast and I compared this to other DNA vitamin delivery services, and this is by far the better deal. The pre-made packs make it easy to throw into your bag and take wherever.

K

Kristy

Los Angeles, California

Alumia does what it says and more

The kit changed my life truly! Not only are their vitamins backed by science (many other companies have only surveys), they take into account my personal health goals and their DNA report provided critical insights into my body. Thank you Alumia for helping me to live a better version of myself.

Peace of mind

Amazing service and range of vitamins. I was more impressed by their high-quality ingredients. I noticed a massive difference in my energy and mood. Life is fast-paced and you can't always get your daily needs from food. Alumia gives you peace of mind you are looking after yourself.

Love the results!

The fact that they are tailored to the DNA of each person is an understatement! I am very happy with the energy that I am feeling each day. Before taking these vitamins I felt fatigued during the day however, since I've been on these vitamins I no longer feel fatigued.

B

Brandon

New York, New York

Vitamins simplified

Vitamins can be so overwhelming. Having them in a simple package, personalized by actual science, rather than deciding for myself is great. It beats store prices of buying each bottle separately and still forgetting to take them.