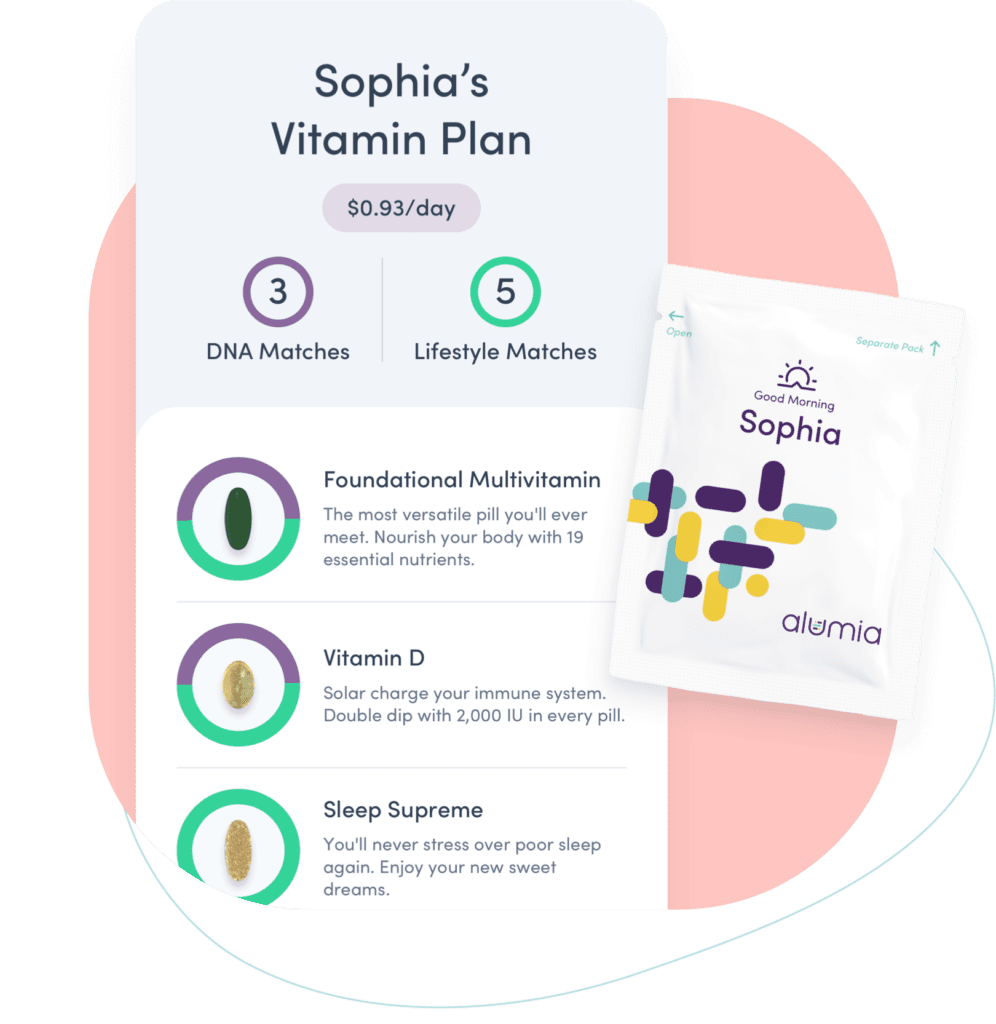 Own your health
Life in a pandemic is challenging. Poor immunity and high stress are always a concern. Even daily functions like sleep, energy, and digestion can be easily disrupted.
Take greater control of your health. Get a tailored vitamin plan that will action on your health goals – and even change as your health changes.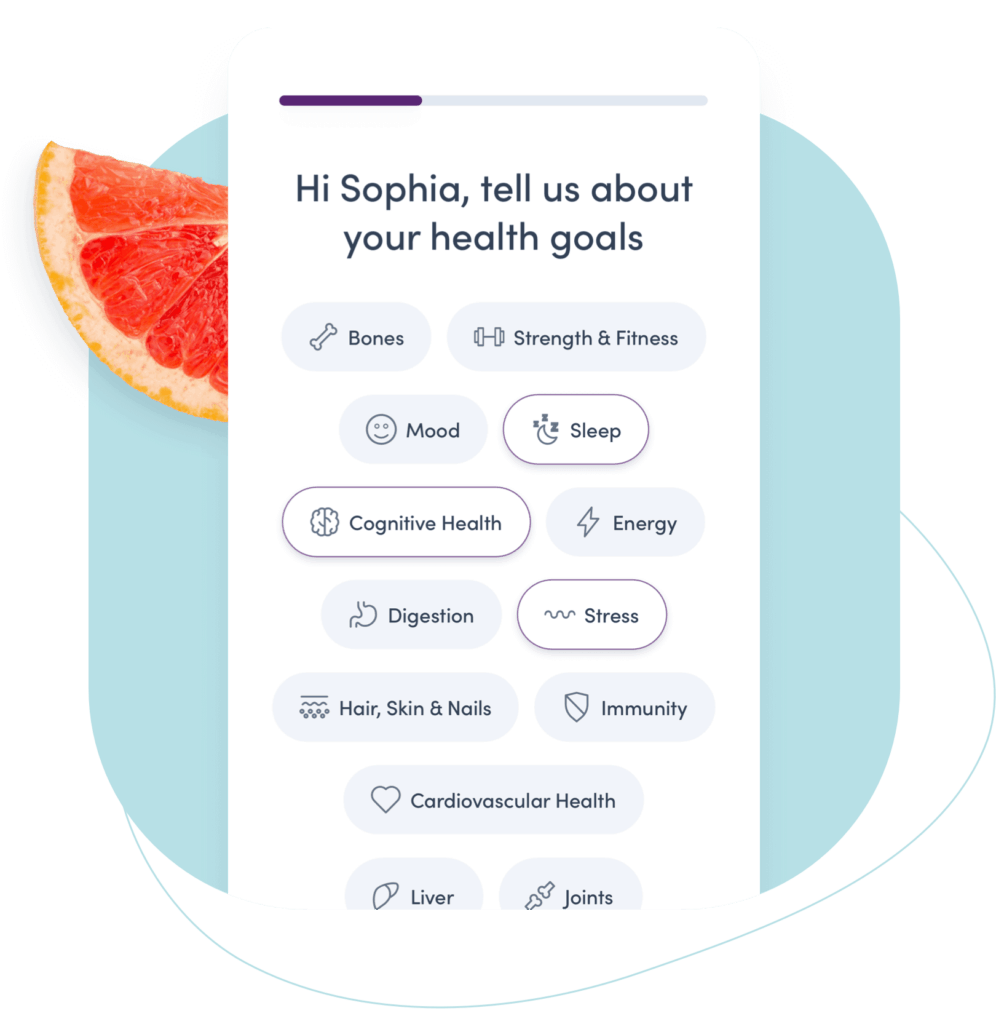 Understanding your goals
Everyone has different health goals – age, diet, and lifestyle are all factors. That's why you'll also receive a lifestyle & health goals questionnaire that will help us understand your unique situation.
This assessment was created by certified nutritionists and naturopathic doctors dedicated to helping people improve their health. It'll be just like visiting your local naturopathic clinic.
Everything starts with 'EVE'
The Enhanced Vitamin Engine (EVE) reads your DNA and lifestyle insights – then analyzes 67 million vitamin combinations to find 1 perfect vitamin plan for you.
EVE was developed by a renowned team of doctors, geneticists, and nutritionists with decades of clinical research and in-patient experience.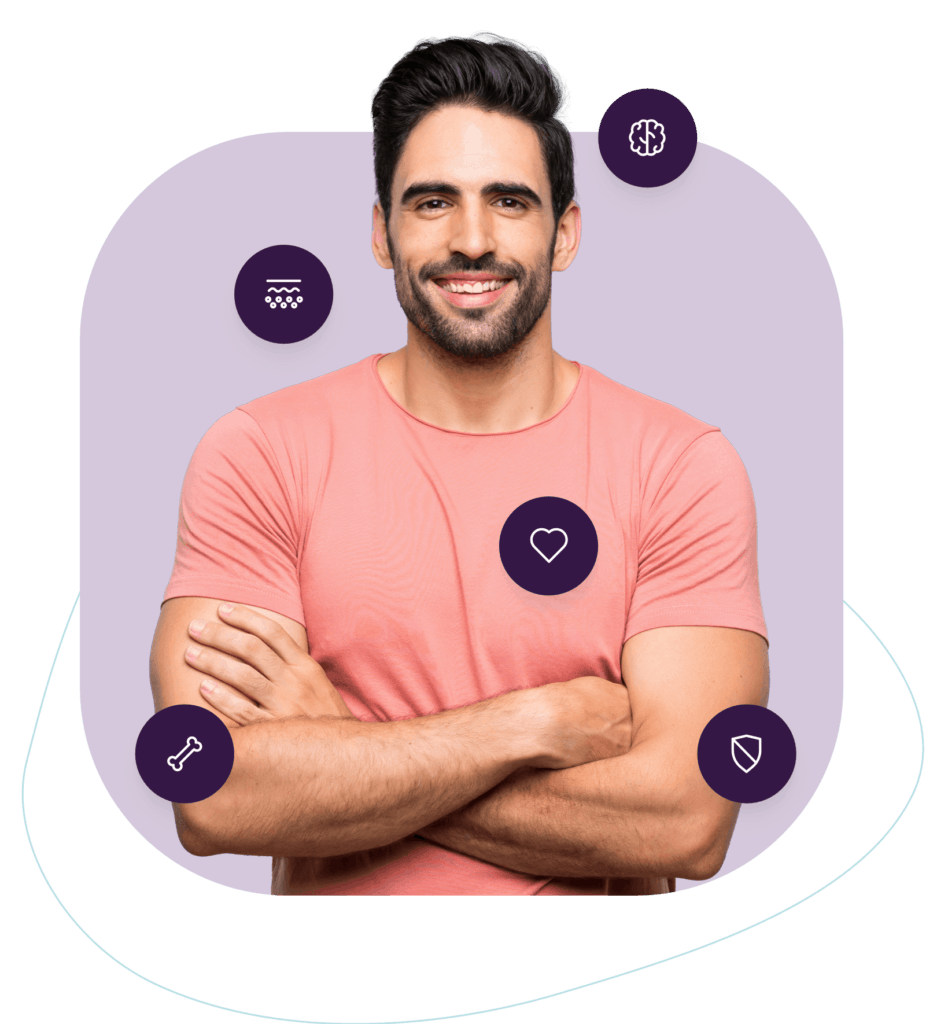 We specialize in results
We've listened to stories from our families, friends, and customers. Weak immunity, joint pain, low energy… the list is long. That's why we created 14 Specialties to aggressively target and improve key areas.
Based on your DNA & health goals, EVE will consider if any of these Specialties are right for you. They contain highly bioavailable & potent botanicals scientifically proven to support your health.
Get your tailored health plan today with zero risk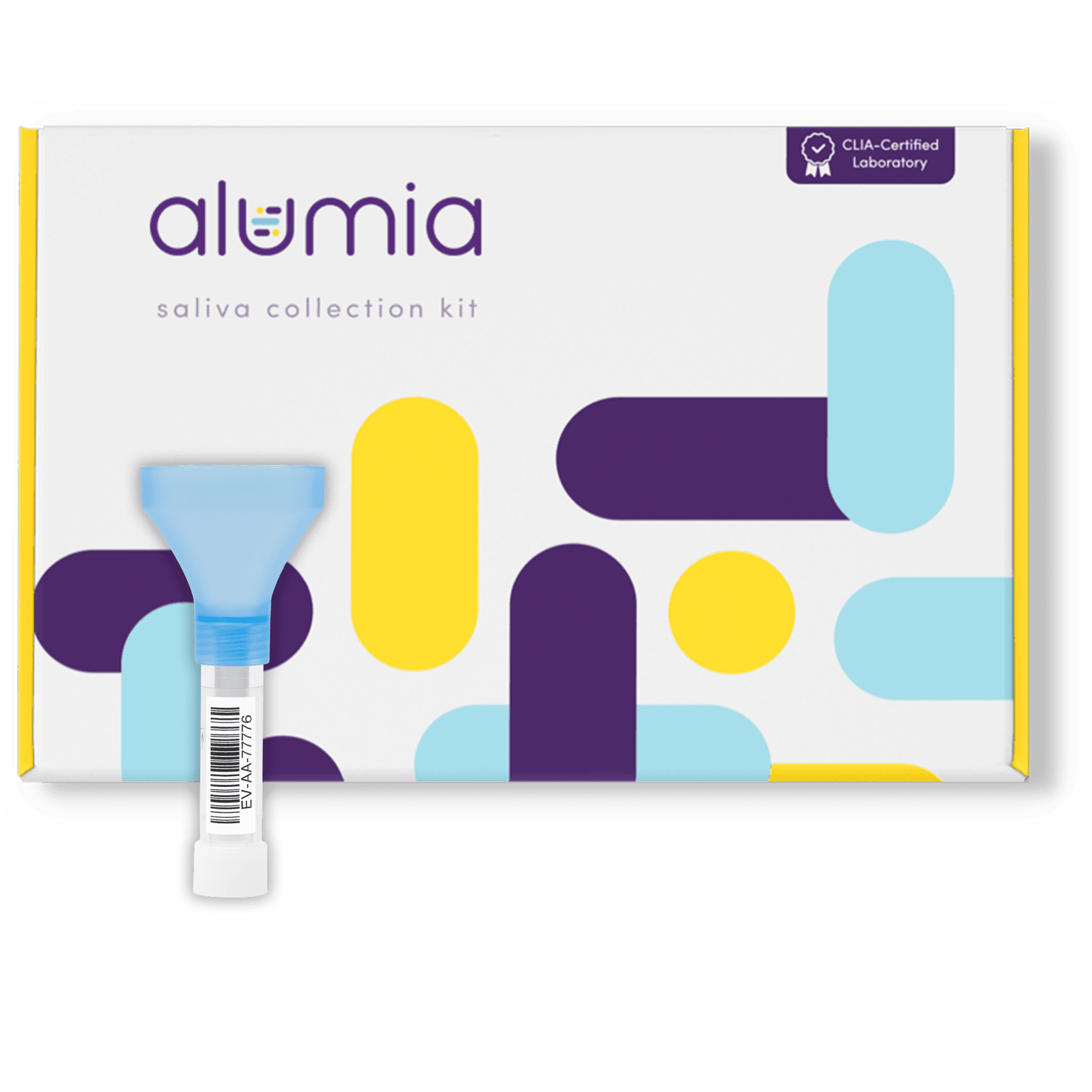 Alumia Vitamin Bundle
DNA Kit + Free 1st Month Vitamins
Free 1st Month Personalized Vitamins
Saliva-based DNA Test Kit
Complete DNA Report
DNA results in just 3 days
CLIA-Certified & HIPAA-Verified Lab
Free shipping on all orders
After your free 1st month, your vitamin subscription will be billed monthly. Plans start between $30 -$50/mo. Easily adjust or cancel your plan for free, anytime.
Limited Time Only
After your free 1st month, your vitamin subscription will be billed monthly. Plans start between $30 -$50/mo. Easily adjust or cancel your plan for free, anytime.
Have more questions about Your Goals?
Below are some common questions asked by Alumia customers. Don't see what you're looking for? Check out more frequently asked questions or contact us.
It all starts with our easy DNA test kit. Visit our How It Works page and see how to get personalized vitamins tailored to your DNA and lifestyle in 3 simple steps.
We currently offer 12 Essentials and 14 Specialties and plan to add many more. Our Essentials cover the essential vitamins and minerals your body needs. Our Specialties cover specific health and lifestyle goals: immunity, energy, sleep, stress, heart, joints, digestion, and more. Rest assured that we'll recommend you the right vitamins based on your DNA and lifestyle. Meet our vitamins and learn about our vitamin quality.
Your personalized vitamins are formulated by an expert team of nutritionists, geneticists, and chemists. We maximize bioavailability by using potent dosages of the highest quality ingredients. We only use non-GMO ingredients that are free of gluten and lactose. Your vitamins are all-natural which means we do not use synthetic fillers or artificial colors, flavors or preservatives of any kind. Most of our vitamins are also organic, vegan friendly, and free of major allergens.
For more info, meet our vitamins and learn about our vitamin quality.
You can view the Supplement Facts for your personalized vitamins on our vitamin pages. They can be also be found in the accompanying booklet in your monthly vitamin shipment.
We definitely encourage you to maintain a healthy and well-balanced diet. However, consuming a diet that contains all of the nutrients your body needs is hard to achieve consistently – for example, a nutrient like Omega-3 comes from eating fatty fish which may not be feasible every day. A busy lifestyle, stress, and environmental factors out of our control also contribute to the fact that most Americans are deficient in several essential nutrients. That's why it's important to supplement your diet with personalized vitamins tailored to what your body needs.